Παπαχρήστου Διονύσιος, Καθηγητής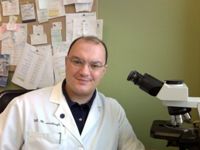 Τομέας: Βασικών Ιατρικών Επιστημών ΙΙ
Κλινική/Εργαστήριο: Εργαστήριο Ανατομίας
Γνωστικό Αντικείμενο: ΑΝΑΤΟΜΙΚΗ ΜΑΚΡΟΣΚΟΠΙΚΗ-ΜΙΚΡΟΣΚΟΠΙΚΗ ΜΕ ΕΞΕΙΔΙΚΕΥΣΗ ΣΤΟ ΜΥΟΣΚΕΛΕΤΙΚΟ ΣΥΣΤΗΜΑ
Ερευνητικοί Τομείς Ενδιαφέροντος: 1. Μοριακοί μηχανισμοί που ενέχονται στην παθογένεια μεταβολικών, εκφυλιστικών και νεοπλασματικών παθήσεων οστών και μαλακών μορίων 2. Συμμετοχή πρωτεϊών-ρυθμιστών του μεταβολισμού του λίπους στην ανάπτυξη οστεοπώρωσης και οστεοαρθρίτιδας 3. Ο ρόλος των microRNAs και των ρυθμιστών τους στην ογκογένεση 4. Κυτταρικοί και μοριακοί μηχανισμοί ανάπτυξης οστικών μεταστάσεων 5. Ο της μηχανοεπαγωγής στην παθογένεια των οστικών παθήσεων
Πανεπιστημιούπολη Πατρών, Κτίριο Προκλινικών Ερευνών, Ιατρική Σχολή, Εραγστήριο Ανατομίας-Ιστολογίας-Εμβρυολογίας 2ος Όροφος, Δωμάτιο Β48
0030-2610-969188 (office), 0030-2610-969199 (Lab), 0030-2610-969199 (secr) 0030-2610-969178 papachristoudj@med.upatras.gr dip13@pitt.edu info@osteonet.gr
Ανάκτηση Βιογραφικού Σημειώματος
Περίληψη Βιογραφικού Σημειώματος
Dr. Dionysios Papachristou is a physician and specialized pathologist. He obtained his MD and PhD at the Medical School of the University of Patras,. He had postdoctoral training on bone biology and pathology at the Department of Pathology, University of Pittsburgh, School of Medicine, Pittsburgh, PA, USA (2004-2006), where he also served as full time faculty member (2007-2009). He was a visiting clinician at the Department of Pathology at the Mayo Clinic, Rochester, MN, USA at the Division of Bone Pathology (2006). Currently, Dr. Papachristou is Associate Professor of Anatomy-Histology-Embryology, University of Patras, School of Medicine and Assistant Professor (Adj.) of Pathology at the University of Pittsburgh. His research interests focus on: 1) the pathogenesis of bone and soft tissue tumors, 2) the pathobiology of metabolic bone diseases and other related conditions, 3) the investigation of the mechanisms of bone metastases. 4) the role of mechanotransduction in bone metabolism. He is member of the International Bone and Mineral Society (IBMS), the European Calcified Tissue Society (ECTS), the American Bone Mineral Society (ABMS) and the European Association for Cancer Research (EACR). Dr. Papachristou has published over 66 original articles in high-impact peer reviewed journals in his field and is involved in international collaborations in the area of bone-related sciences. His research is currently funded by the European Marie Curie FP7-PEOPLE-RG-2009, #256402 Grant and the « KARATHODORI » Research Grant by the University of Patras and Research Grant by the University of Pittsburgh (IRB#612060). He is director of the Unit of Bone and Soft Tissue Studies of the Dept. of Anatomy-Histology-Embryology of the Medical School of the UPatras. He is coordinator of the intrauniversity scientific network of the University of Pattras, "OsteoNet" (www.osteonet.gr).
Προπτυχιακά Μαθήματα
Μεταπτυχιακά Μαθήματα
Μεθοδολογία της έρευνας στις Βασικές Ιατρικές Επιστήμες II (ΠΜΣ - Βασικών Ιατρικών Επιστημών)
Ερευνητικά Θέματα (ΠΜΣ - Βασικών Ιατρικών Επιστημών)
Μοριακή Ανατομική (ΠΜΣ - Βασικών Ιατρικών Επιστημών)
Σεμινάρια Φοιτητών Ι (ΠΜΣ - Βασικών Ιατρικών Επιστημών)
ΠΑ5. Αρχές Ανατομικής του Ανθρωπίνου Σώματος (ΔΠΜΣ ΠΕΖ)
Σύγχρονα Θέματα Βιοϊατρικής Έρευνας (ΔΜΠΣ ΠΕΖ)
Επιλεγμένες Δημοσιεύσεις
1. Blair HC, Kalyvioti E, Papachristou NI, Tourkova IL, Syggelos SA, Deligianni D, Orkoula MG, Kontoyannis CG, Karavia EA, Kypreos KE, Papachristou DJ. Apolipoprotein A-1 regulates osteoblast and lipoblast precursor cells in mice. Lab Invest 2016; (): . PMID: 27088511 DOI: 10.1038/labinvest.2016.51 2.Papachristou DJ, Blair HC. Bone and high-density lipoprotein: The beginning of a beautiful friendship. World J Orthop 2016; 7 (2): 74-7. PMID: 26925377DOI: 10.5312/wjo.v7.i2.74 3.Petridis T, Giannakopoulou D, Stamatopoulou V, Grafanaki K, Kostopoulos CG, Papadaki H, Malavaki CJ, Karamanos NK, Douroumi S, Papachristou D, Magoulas GE, Papaioannou D, Drainas D. Investigation on Toxicity and Teratogenicity in Rats of a Retinoid-Polyamine Conjugate with Potent Anti-Inflammatory Properties. Birth Defects Res B Dev Reprod Toxicol 2016; 107 (1): 32-44. PMID: 26762583 DOI: 10.1002/bdrb.21170 4.Korpetinou A, Papachristou DJ, Lampropoulou A, Bouris P, Labropoulou VT, Noulas A, Karamanos NK, Theocharis AD. Increased Expression of Serglycin in Specific Carcinomas and Aggressive Cancer Cell Lines. Biomed Res Int 2015; 2015 (): 690721. PMID: 26581653 DOI: 10.1155/2015/690721 5.Klavdianou K, Liossis SN, Papachristou DJ, Theocharis G, Sirinian C, Kottorou A, Filippopoulou A, Andonopoulos AP, Daoussis D. Decreased Serotonin Levels and Serotonin-Mediated Osteoblastic Inhibitory Signaling in Patients With Ankylosing Spondylitis. J Bone Miner Res 2016; 31 (3): 630-9. PMID: 2642054 DOI: 10.1002/jbmr.2724 6.Karavia EA, Hatziri A, Kalogeropoulou C, Papachristou NI, Xepapadaki E, Constantinou C, Natsos A, Petropoulou PI, Sasson S, Papachristou DJ, Kypreos KE. Deficiency in apolipoprotein A-I ablates the pharmacological effects of metformin on plasma glucose homeostasis and hepatic lipid deposition. Eur J Pharmacol 2015; 766 (): 76-85. PMID: 26420354 DOI: 10.1016/j.ejphar.2015.09.040 7.Karavia EA, Papachristou NI, Sakellaropoulos GC, Xepapadaki E, Papamichail E, Petropoulou PI, Papakosta EP, Constantinou C, Habeos I, Papachristou DJ, Kypreos KE. Scavenger Receptor Class B Type I Regulates Plasma Apolipoprotein E Levels and Dietary Lipid Deposition to the Liver. Biochemistry 2015; 54 (36): 5605-16. PMID: 26313465 DOI: 10.1021/acs.biochem.5b00700 8.Panagopoulos A, Tsoumpos P, Tatani I, Iliopoulos I, Papachristou D. Giant Cell Tumor of the Patella Tendon Sheath Presenting as a Painful Locked Knee. Am J Case Rep 2015; 16 (): 568-73. PMID: 26302970 DOI: 10.12659/AJCR.893849 9.Prodromaki E, Korpetinou A, Giannopoulou E, Vlotinou E, Chatziathanasiadou Μ, Papachristou NI, Scopa CD, Papadaki H, Kalofonos HP, Papachristou DJ. Expression of the microRNA regulators Drosha, Dicer and Ago2 in non-small cell lung carcinomas. Cell Oncol (Dordr) 2015; 38 (4): 307-17. PMID: 26227789 DOI: 10.1007/s13402-015-0231-y 10.Blair HC, Sepulveda J, Papachristou DJ. Nature and nurture in atherosclerosis: The roles of acylcarnitine and cell membrane-fatty acid intermediates. Vascul Pharmacol 2016; 78 (): 17-23. PMID: 26133667 DOI: 10.1016/j.vph.2015.06.012 11.Filou S, Korpetinou A, Kyriakopoulou D, Bounias D, Stavropoulos M, Ravazoula P, Papachristou DJ, Theocharis AD, Vynios DH. ADAMTS expression in colorectal cancer. PLoS One 2015; 10 (3): e0121209. PMID: 25786261 DOI: 10.1371/journal.pone.0121209 12.Giannopoulou E, Siatis KE, Metsiou D, Kritikou I, Papachristou DJ, Kalofonou M, Koutras A, Athanassiou G, Kalofonos HP. The inhibition of aromatase alters the mechanical and rheological properties of non-small-cell lung cancer cell lines affecting cell migration. Biochim Biophys Acta 2015; 1853 (2): 328-37. PMID: 25450981 DOI: 10.1016/j.bbamcr.2014.11.016 13.Kontogeorgakos VA, Papachristou DJ, Malizos KN. Eosinophilic granuloma of the sternum in a child treated with closed biopsy. Pediatr Int 2014; 56 (3): 417-9. PMID: 24894927 DOI: 10.1111/ped.12263 14.Ziros PG, Manolakou SD, Habeos IG, Lilis I, Chartoumpekis DV, Koika V, Soares P, Kyriazopoulou VE, Scopa CD, Papachristou DJ, Sykiotis GP. Nrf2 is commonly activated in papillary thyroid carcinoma, and it controls antioxidant transcriptional responses and viability of cancer cells. J Clin Endocrinol Metab 2013; 98 (8): E1422-7. PMID: 23766517 DOI: 10.1210/jc.2013-1510 15. Skliris A, Labropoulou VT, Papachristou DJ, Aletras A, Karamanos NK, Theocharis AD. Cell-surface serglycin promotes adhesion of myeloma cells to collagen type I and affects the expression of matrix metalloproteinases. FEBS J 2013; 280 (10): 2342-52. 16. Triantaphyllidou IE, Kalyvioti E, Karavia E, Lilis I, Kypreos KE, Papachristou DJ. Perturbations in the HDL metabolic pathway predispose to the development of osteoarthritis in mice following long-term exposure to western-type diet. Osteoarthritis Cartilage 2013; 21 (2): 322-30. 17. Filou S, Stylianou M, Triantaphyllidou IE, Papadas T, Mastronikolis NS, Goumas PD, Papachristou DJ, Ravazoula P, Skandalis SS, Vynios DH. Expression and distribution of aggrecanases in human larynx: ADAMTS-5/aggrecanase-2 is the main aggrecanase in laryngeal carcinoma. Biochimie 2013; 95 (4): 725-34. 18. Karavia EA, Papachristou DJ, Kotsikogianni I, Triantafyllidou IE, Kypreos KE. Lecithin/cholesterol acyltransferase modulates diet-induced hepatic deposition of triglycerides in mice. J Nutr Biochem 2012; 24 (3): 567-77. 19. Karadimas SK, Klironomos G, Papachristou DJ, Papanikolaou S, Papadaki E, Gatzounis G. Immunohistochemical Profile of NF-κB/p50, NF-κB/p65, MMP-9, MMP-2 and u-PA in Experimental Cervical Spondylotic Myelopathy. Spine (Phila Pa 1976) 2013; 38 (1): 4-10. 20. Karavia EA, Papachristou DJ, Liopeta K, Triantafyllidou IE, Dimitrakopoulos O, Kypreos KE. Apolipoprotein A-I modulates Processes Associated with Diet-Induced Nonalcoholic Fatty Liver Disease in Mice. Mol Med 2012; 18 (9): 901-12. 21. Pagoulatou E, Triantaphyllidou IE, Vynios DH, Papachristou DJ, Koletsis E, Deligianni D, Mavrilas D. Biomechanical and structural changes following the decellularization of bovine pericardial tissues for use as a tissue engineering scaffold. J Mater Sci Mater Med 2012; 23 (6): 1387-96. 22. Lazana I, Zoudiari A, Kokkinou D, Themeli M, Liga M, Papadaki E, Papachristou D, Spyridonidis A. Identification of a novel HLA-G+ regulatory population in blood: expansion after allogeneic transplantation and de novo HLA-G expression at GvHD sites. Haematologica 2012; 97 (9): 1338-47. 23. Kontogeorgakos V, Korompilias A, Georgousis M, Papachristou D. Digital metastasis presenting as infection. J Hand Microsurg 2011; 3 (1): 25-7. 24. Karavia EA, Papachristou DJ, Kotsikogianni I, Giopanou I, Kypreos KE. Deficiency in apolipoprotein E has a protective effect on diet-induced nonalcoholic fatty liver disease in mice. FEBS J 2011; 278 (17): 3119-29. 25. Papachristou DJ, Sklirou E, Corradi D, Grassani C, Kontogeorgakos V, Rao UN. Immunohistochemical analysis of the endoribonucleases Drosha, Dicer and Ago2 in smooth muscle tumours of soft tissues. Histopathology 2012;60: E28-36. 26. Papachristou DJ, Basdra EK, Papavassiliou AG. Bone metastases: Molecular mechanisms and novel therapeutic interventions. Med Res Rev 2012; 32 (3): 611-36 27. Papachristou DJ, Korpetinou A, Giannopoulou E, Antonacopoulou AG, Papadaki H, Grivas P, Scopa CD, Kalofonos HP. Expression of the ribonucleases Drosha, Dicer, and Ago2 in colorectal carcinomas. Virchows Arch 2011, 459: 431-40. 28. Papachristou DJ, Rao UN, Korpetinou A, Giannopoulou E, Sklirou E, Kontogeorgakos V, Kalofonos HP. Prognostic significance of Dicer cellular levels in soft tissue sarcomas. Cancer Invest 2011; 30 (2): 172-9. 29. Klironomos G, Karadimas S, Mavrakis A, Mirilas P, Savvas I, Papadaki E, Papachristou DJ, Gatzounis G. New experimental rabbit animal model for cervical spondylotic myelopathy. Spinal Cord 2011; 49 (11): 1097-102. 30. Papachristou DJ, Goodman M, Cieply K, Rao UN. Extraskeletal Osteosarcoma of Subcutaneous Soft Tissue with Lymph Node and Skin Metastasis: A Case Report with Fluorescence in Situ Hybridization Analysis. Pathol Oncol Res 2011; 18(1): 107-10. 31. Papathanassiou ZG, Petsas T, Papachristou D, Megas P. Radiofrequency ablation of osteoid osteomas: five years experience. Acta Orthop Belg 2011; 77 (6): 827-33. 32. Gkouva L, Andrikoula M, Kontogeorgakos V, Papachristou DJ, Tsatsoulis A. Active Paget's disease of bone with normal biomarkers of bone metabolism: a case report and review of the literature. Clin Rheumatol 2011; 30 (1): 139-44. 33. Gkizas SI, Apostolakis E, Pagoulatou E, Mavrilas D, Papachristou DJ, Koletsis E, Papalois A, Papadaki H, Alexopoulos D. Aldosterone receptor inhibition alters the viscoelastic biomechanical behavior of the aortic wall. Exp Biol Med (Maywood) 2010; 235 (3): 311-6. 34. Klironomos G, Bravou V, Papachristou DJ, Gatzounis G, Varakis J, Parassi E, Repanti M, Papadaki H. Loss of inhibitor of growth (ING-4) is implicated in the pathogenesis and progression of human astrocytomas. Brain Pathol 2010; 20 (2): 490-7. 35. Athanassiou V, Papachristou DJ, Panagopoulos A, Saridis A, Scopa C, Megas P. Histological comparison of autograft, allograft-DBM, xenograft, and synthetic grafts in trabecular bone defect: an experimental study. Med Sci Monit 16:BR24-31;2010. 36. Papachristou GI, Muddana V, Papachristou DJ, Stello K, Whitcomb DC. Epidermal growth factor serum levels and the 61 G/A polymorphism in patients with acute pancreatitis. Dig Dis Sci 2010; 55 (9): 2676-80. 37. Mazis N, Papachristou DJ, Zouboulis P, Tyllianakis M, Scopa CD, Megas P. The effect of different physical activity levels on muscle fiber size and type distribution of lumbar multifidus. A biopsy study on low back pain patient groups and healthy control subjects. Eur J Phys Rehabil Med. 45:459-67;2009 38. Megas P, Papathanassiou ZG, Kasimatis G, Papachristou DJ. Aneurysmal bone cyst of the scapula. A case report. Acta Orthop Belg 2009; 75 (5): 684-9. 39. Papachristou DJ, Papachroni KK, Papavassiliou GA, Pirttiniemi P, Gorgoulis VG, Piperi C, Basdra EK. Functional alterations in mechanical loading of condylar cartilage induces changes in the bony subcondylar region. Arch Oral Biol 2009; 54 (11): 1035-45 40. Sarris JN, Papachristou DJ, Panteliou SD. Modal Dumping as bone quality index: Experimemtation on women's femora. IEEExplore. Digital Library, 2011 41. Papachristou DJ, Papachroni KK, Basdra EK, Papavassiliou AG. Signaling networks and transcription factors regulating mechanotransduction in bone. Bioessays 2009; 31 (7): 794-804. 42. Papachristou DJ, Palekar A, Surti U, Cieply K, McGough RL, Rao UN. Malignant granular cell tumor of the ulnar nerve with novel cytogenetic and molecular genetic findings. Cancer Genet Cytogenet 2009; 191 (1): 46-50. 43. Kontogeorgakos VA, Xenakis T, Papachristou D, Korompilias A, Kanellopoulos A,, Beris A, Brigman B. Cortical desmoid and the four clinical scenarios. Arch Orthop Trauma Surg 2009; 129 (6): 779-85. 44. Papachristou DJ, Gkretsi V, Rao UN, Papachristou GI, Papaefthymiou OA, Basdra EK, Wu C, Papavassiliou AG. Expression of integrin-linked kinase and its bindingpartners in chondrosarcoma: association with prognostic significance. Eur J Cancer 2008; 44 (16): 2518-25 45. Papathanassiou ZG, Megas P, Petsas T, Papachristou DJ, Nilas J, Siablis D. Osteoid osteoma: diagnosis and treatment. Orthopedics 2008; 31 (11): 1118. 46. Papachristou DJ, Papadakou E, Basdra EK, Baltopoulos P, Panagiotopoulos E, Papavassiliou AG. Involvement of the p38 MAPK-NF-kappaB signal transduction pathway and COX-2 in the pathobiology of meniscus degeneration in humans. Mol Med 2008 Mar-Apr; 14 (3-4): 160-6. 47. Aoun E, Slivka A, Papachristou DJ, Gleeson FC, Whitcomb DC, Papachristou GI. Rapid evolution from the first episode of acute pancreatitis to chronic pancreatitis in human subjects. J Pancreas 2007; 8 (5): 573-8. 48. Papachristou DJ, Gkretsi V, Tu Y, Shi X, Chen K, Larjava H, Rao UN, Wu C. Increased cytoplasmic level of migfilin is associated with higher grades of human leiomyosarcoma. Histopathology 2007; 51 (4): 499-508. 49. Papadopoulou AK, Papachristou DJ, Chatzopoulos SA, Pirttiniemi P, Papavassiliou AG, Basdra EK. Load application induces changes in the expression levels of Sox-9, FGFR-3 and VEGF in condylar chondrocytes. FEBS Lett 2007; 581 (10): 2041-6. 50. Kontogeorgakos VA, Lykissas MG, Mavrodontidis AN, Sioros V, Papachristou D, Batistatou AK, Beris AE. Turret exostosis of the hallux. J Foot Ankle Surg 2007 Mar-Apr; 46 (2): 130-2. 51. Papachristou GI, Gleeson FC, Papachristou DJ, Petersen BT, Baron TH. Endoscopist administered sedation during ERCP: impact of chronic narcotic/benzodiazepine use and predictive risk of reversal agent utilization. Am J Gastroenterol 2007; 102 (4): 738-43. 52. Papachristou DJ, Papavassiliou AG. Osteosarcoma and chondrosarcoma: new signaling pathways as targets for novel therapeutic interventions. Int J Biochem Cell Biol 2007; 39 (5): 857-62. 53. Papachristou GI, Papachristou DJ, Morinville VD, Slivka A, Whitcomb DC. Chronic alcohol consumption is a major risk factor for pancreatic necrosis in acute pancreatitis. Am J Gastroenterol 2006; 101 (11): 2605-10. 54. Papachristou DJ, Goodman MA, Cieply K, Hunt JL, Rao UN. Comparison of allelic losses in chondroblastoma and primary chondrosarcoma of bone and correlation with fluorescence in situ hybridization analysis. Hum Pathol 2006; 37 (7): 890-8. 55. Papachristou GI, Papachristou DJ, Avula H, Slivka A, Whitcomb DC. Obesity increases the severity of acute pancreatitis: performance of APACHE-O score and correlation with the inflammatory response. Pancreatology 2006; 6 (4): 279-85. 56. Sun L, Peng Y, Sharrow AC, Iqbal J, Zhang Z, Papachristou DJ, Zaidi S, Zhu LL, Yaroslavskiy BB, Zhou H, Zallone A, Sairam MR, Kumar TR, Bo W, Braun J, Cardoso-Landa L, Schaffler MB, Moonga BS, Blair HC, Zaidi M. FSH directly regulates bone mass. Cell 2006; 125 (2): 247-60. 57. Papachristou GI, Papachristou DJ, Schoedel K, McGrath K, Slivka A. Systemic silicosis that involves the pancreas. Gastrointest Endosc 2006; 63 (1): 170-2. 58. Papachristou D, Pirttiniemi P, Kantomaa T, Agnantis N, Basdra EK. Fos- and Jun-related transcription factors are involved in the signal transduction pathway of mechanical loading in condylar chondrocytes. Eur J Orthod 2006; 28 (1): 20-6. 59. Papachristou DJ, Papachristou GI, Papachristou GJ, Papaefthimiou OA, Agnantis NJ, Basdra EK, Papavassiliou AG. The MAPK-AP-1/-Runx2 signalling axes are implicated in chondrosarcoma pathobiology either independently or via up-regulation of VEGF. Histopathology 2005; 47 (6): 565-74. 60. Kalambokis G, Economou G, Kamina S, Papachristou DJ, Bai M, Tsianos EV. Multiple brown tumors of the ribs simulating malignancy. J Endocrinol Invest 2005; 28 (8): 738-40. 61. Pakos EE, Goussia AC, Tsekeris PG, Papachristou DJ, Stefanou D, Agnantis NJ. Expression of vascular endothelial growth factor and its receptor, KDR/Flk-1, in soft tissue sarcomas. Anticancer Res 2005 Sep-Oct; 25 (5): 3591-6. 62. Papachristou DJ, Pirttiniemi P, Kantomaa T, Papavassiliou AG, Basdra EK. JNK/ERK-AP-1/Runx2 induction "paves the way" to cartilage load-ignited chondroblastic differentiation. Histochem Cell Biol 2005; 124 (3-4): 215-23. 63. Stefanou D, Batistatou A, Zioga A, Arkoumani E, Papachristou DJ, Agnantis NJ. Immunohistochemical expression of vascular endothelial growth factor (VEGF) and C-KIT in cutaneous melanocytic lesions. Int J Surg Pathol 2004; 12 (2): 133-8 64. Stefanou D, Batistatou A, Kamina S, Arkoumani E, Papachristou DJ, Agnantis NJ. Expression of vascular endothelial growth factor (VEGF) and association with microvessel density in benign prostatic hyperplasia and prostate cancer. In Vivo 2004 Mar-Apr; 18 (2): 155-60. 65. Papachristou DJ, Batistatou A, Sykiotis GP, Varakis I, Papavassiliou AG. Activation of the JNK-AP-1 signal transduction pathway is associated with pathogenesis and progression of human osteosarcomas. Bone 2003; 32 (4): 364-71. 66. Papadopoulos A, Karageorgos A, Tyllianakis M, Sourgiadaki E, Tsota I, Papachristou DJ, Lambiris E. Exchange of Ilizarov External Fixation by Intramedullary Nail, During Callus Consolidation Phase of Limb Lengthening: An Experimental Sheep Model. Osteosynthesis and Trauma Care 2002;10:184-7.
Επιλεγμένες Ομιλίες
ΔΙΕΛΕΞΕΙΣ ΩΣ ΠΡΟΣΚΕΚΛΗΜΕΝΟΣ ΟΜΙΛΗΤΗΣ (ΤΕΛΕΥΤΑΙ 3 ΧΡΟΝΙΑ) 1. 15 Ιουνίου 2013. 2η Ημερίδα Ενδοπανεπιστημιακού Ερευνητικού Δικτύου "OsteoNet" με διεθνή συμμετοχή. Προσκεκλημένος ομιλητής, Πάτρα. 2. 23-25 Μαΐου 2013. Επετειακό Συνέδριο «Τι νεότερο στην Οστεοπόρωση και στην Οστεοαρθρίτιδα». Προσκεκλημένος ομιλητής, Θεσσαλονίκη. 3. April 22nd, 2013. IEEE EMBS Workshop: Medical Robotics and Simulations. Invited Speaker, Patras 4. 20-21 Απριλίου 2013. Αχαϊκές ημέρες 2013. Νεότερα δεδομένα στη βιοτεχνολογία και τη φαρμακοθεραπεία. Προσκεκλημένος ομιλητής, Πάτρα. 5. 1-2 Μαρτίου 2013. 10ο Πανελλήνιο Εκπαιδευτικό Σεμινάριο: Εξελίξεις στην Ογκολογία. Προσκεκλημένος ομιλητής, Πάτρα. 6. January 13th, 2012. 3rd Seminar of IEEE EMBS Student Chapter of the University of Patras. Invited Speaker, Patras. 7. 23-24 Νοεμβρίου 2012. Εκπαιδευτικό Σεμινάριο: Γυναίκα και Καρκίνος, απο την Πρόληψη στη Θεραπεία. Προσκεκλημένος ομιλητής, Πάτρα. 8. 8 Οκτωβρίου. 1η Ημερίδα Ενδοπανεπιστημιακού Ερευνητικού Δικτύου "OsteoNet" με διεθνή συμμετοχή. Προσκεκλημένος ομιλητής, Πάτρα. 9. 3-6 Οκτωβρίου 2012. 68ο Πανελλήνιο Ορθοπαιδικό Συνέδριο. Προσκεκλημένος ομιλητής, Αθήνα. 10. 18-22 Απριλίου 2012. 24ο Πανελλήνιο Συνέδριο Γενικής Ιατρικής. Προσκεκλημένος ομιλητής, Κυλλήνη. 11. 2-3 Δεκεμβρίου 2011. 17ο Σεμινάριο Εμβιομηχανικής της Σπονδυλικής Στήλης - Βιοτεχνολογίας και Έρευνας. Προσκεκλημένος ομιλητής, Αθήνα. 12. 10-13 Νοεμβρίου 2011. Εκπαιδευτικό Σεμινάριο Κολεγίου Ελλήνων Ορθοπαιδικών Χειρουργών. Προσκεκλημένος ομιλητής, Αθήνα. 13. 16 Δεκεμβρίου 2010. 2η Επιστημονική Ημερίδα Ενδοπανεπιστημιακού Δικτύου "BioTargeting". Προσκεκλημένος ομιλητής, Πάτρα. 14. 22-24 Οκτωβρίου 2010. Εκπαιδευτικό Σεμιναριο στην ολική αρθροπαλστική ισχίου. Προσκεκλημένος ομιλητής, Βυτίνα. 15. 5 Νοεμβρίου 2010. 1η Επιστημονική Ημερίδα Ενδοπανεπιστημιακού Δικτύου "BioTargeting". Προσκεκλημένος ομιλητής, Πάτρα. 16. 7-10 Οκτωβρίου 2009. 65ο Πανελλήνιο Ορθοπαιδικό Συνέδριο. Προσκεκλημένος ομιλητής, Θεσσαλονίκη. 17. 17-19 Σεπτεμβρίου 2009. 3ο Πανελλήνιο Συνέδριο Διατατικής Οστεογένεσης. Προσκεκλημένος ομιλητής, Πάτρα. 18. 19-20 Ιουνίου 2009. Σεμινάριο Τραύματος Ώμου και Αγκώνα με Διεθνή Συμμετοχή. Προσκεκλημένος ομιλητής, Πάτρα. 19. 2-4 Οκτωβρίου 2009. 8ο Πανελλήνιο Συνέδριο Ελληνικής Εταιρίας Κλινικής Χημείας και Βιοχημείας. Προσκεκλημένος ομιλητής, Πάτρα.
Επίβλεψη Διδακτορικών Διατριβών
1. Όνομα Φοιτητή: Ελένη Προδρομάκη. Πρόγραμμα: Μεταπτυχιακό πρόγραμμα «Εφαρμογές στις βασικές ιατρικές επιστήμες». Θέμα: "Μοριακοί μηχανισμοί που ενέχονται στη παθογένεια του μη μικροκυτταρικού καρκίνου του πνεύμονα με έμφαση στο ρόλο των ρυθμιστών των microRNAs, Drosha, Dicer και Ago-2". Παρουσίαση, Απρίλιος, 2013 (Βαθμός: ΑΡΙΣΤΑ) 2. Όνομα φοιτητή: Ελένη Καλυβιώτη. Πρόγραμμα: Μεταπτυχιακό πρόγραμμα «Εφαρμογές στις βασικές ιατρικές επιστήμες». Θέμα: "Μελέτη του ρόλου των συστατικών του μεταβολικού μονοπατιού της HDL στην παθογένεια της οστεοπόρωσης και της οστεοαρθρίτιδας". Η διατριβή είναι σε εξέλιξη. 3. Όνομα φοιτητή: Δημήτρης Παναγιωτόπουλος. Πρόγραμμα: Μεταπτυχιακό πρόγραμμα «Εφαρμογές στις βασικές ιατρικές επιστήμες». Θέμα: "Μελέτη των μηχανισμών του πόνου στην εκφυλιστική νόσο των αρθρώσεων". Η διατριβή είναι σε εξέλιξη. 4. Όνομα φοιτητή: Νίκη Προκόπη. Πρόγραμμα: Μεταπτυχιακό πρόγραμμα «Εφαρμογές στις βασικές ιατρικές επιστήμες». Θέμα: "Μοριακοί μηχανισμοί που ενέχονται στην παθοβιολογία των εκφυλιστικών αλλοιώσεων του οστού και του χόνδρου και συσχέτιση με εμβιομηχανικές ιδιότητες". Η διατριβή είναι σε εξέλιξη.
Άλλες Δραστηριότητες
ΤΡΕΧΟΥΣΑ ΧΡΗΜΑΤΟΔΟΤΗΣΗ 1. FP7-European Research Council, International Reintegration Grant (IRG) #256402 PΙ (active). 2. University of Patras, "Karatheororis" Grant, ΡΙ (active) (D155). 3. University of Pittsburgh, Pittsburgh, PA, USA, University of Pittsburgh School of Medicine, Pittsburgh, PA, USA "Molecular, Immunohistochemical, Morphological analyses and Predictors of Local and Distant Recurrent and Outcome in Bone and Soft Tissue Sarcoma" IRB #: 0612060, (role: participant-coinvestigator, coordinator/Principal Investigator: Dr Uma Rao, MD). 4. "Έκφραση και βιολογικός ρόλος της σεργλυκίνης στις κακοήθειες" και α/α «07», της πράξης με τίτλο «ΑΡΧΙΜΗΔΗΣ ΙΙΙ – Ενίσχυση Ερευνητικών Ομάδων στο ΤΕΙ Λάρισας» στο Ε.Π. «Εκπαίδευση και δια Βίου Μάθηση» με κωδικό ΟΠΣ383555. (Συνεργαζόμενο μέλος ΔΕΠ, Επιστημονικώς υπεύθυνος: Καθηγητής Αργύριος Νούλας) (ενεργό). 5. "ΑΡΙΣΤΕΙΑ ΙΙ-2012". LipidOSporosis. Έχει κατατεθεί, αναμένονται τα αποτελέσματα. ΠΑΤΕΝΤΕΣ LCAT as a novel pharmaceutical target for the treatment of NAFLD (application number PCT/GR2011/000026). ΕΡΕΥΝΗΤΙΚΑ ΔΙΚΤΥΑ 1. Ενδοπανεπιστημιακό Ερευνητικό Δίκτυο OsteoNet Παν/μιου Πατρών. 2011-Σήμερα. Συντονιστής/Διευθυντής. 2. Ενδοπανεπιστημιακό Ερευνητικό Δίκτυο MetSNet Παν/μιου Πατρών. 2009-Σήμερα. Οικονομικός Διαχειριστής (με συντονιστή τον Αναπλ. Καθ. κ. Κυπραίο)