KYPREOS KYRIAKOS, Professor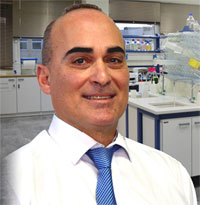 Sector: Division of Basic Medical Sciences II
Clinic/Laboratory: Department of General Pharmacology
Knowledge Subject: Pharmacology
Research Area: Pharmacology of metabolic syndrome
University of Patras School of Health Sciences Department of Medicine Pharmacology Unit Panepistimioupolis Rio Achaias, Patras, TK. 26500 Greece Preclinical research building, 3rd Floor
+302610969120 - kkypreos@med.upatras.gr
Summary of Curriculum Vitae
The research team of Dr. Kypreos focuses on the pathological conditions associated with metabolic syndrome with particular emphasis on dyslipidemia and atherosclerosis, obesity and type II diabetes. Ultimate goal through comprehensive research approaches is the elucidation of the molecular aetiology of these diseases, the identification of novel pharmaceutical targets and the development of new pharmaceutical approaches for their treatment. Such novel approaches maycontribute to the personalization of medical treatment on the basis of the genetic profile of the patient.
The work of the team has received significant international recognition and appreciation in the field. The research activities of the team are financially sponsored by the European Research Council, and to a lesser extent by local funding agencies. The group collaborates with a number of internationally recognized prestigious laboratories worldwide. Representative manuscripts of our work can be found in the Representative Publications page of our website:
http://www.med.upatras.gr/kkypreos/index.htm
.
Undergraduate Courses
Postgraduate Courses
Research topics (Graduate program in basic medical sciences)
Invited speaker seminars I (Graduate program in basic medical sciences)
Methodology in basic medical sciences II (Graduate program in basic medical sciences)
Invited speaker seminars ΙΙ (Graduate program in basic medical sciences)
Pharmacokinetics – Toxicology (Graduate program in basic medical sciences)
Invited speaker seminars ΙΙΙ (Graduate program in basic medical sciences)
Student seminars Ι (Graduate program in basic medical sciences)
Invited speaker seminars ΙV (Graduate program in basic medical sciences)
Σεμινάρια Φοιτητών ΙΙ (Graduate program in basic medical sciences)
Design, evaluation and pharmacological development of novel lead compounds (Graduate program in basic medical sciences)

Selected Publications

1. Kyriakos E. Kypreos, Spyridon Gkizas, Loukianos S. Rallidis, Iordanis Karagiannides (2013) HDL particle functionality as a primary pharmacological target for HDL-based therapies. Biochemical Pharmacology, 10.1016/j.bcp.2013.03.004

2. Angeliki Lampropoulou, Vassilis I. Zannis, Kyriakos E. Kypreos (2012) Pharmacodynamic and pharmacokinetic analysis of apoE4 [L261A, W264A, F265A, L268A, V269A], a recombinant apolipoprotein E variant with improved biological properties. Biochemical Pharmacology, 84(11):1451-8. doi: 10.1016/j.bcp.2012.09.006. Epub 2012 Sep 14.

3. Irene-Eva Triantaphyllidou, Eleni Karavia, Eleni Kalyvioti, Ioannis Lilis, Kyriakos E. Kypreos, and Dionysios J. Papachristou (2012) Perturbations in ithe HDL metabolic pathway predispose to the development of osteorthritis in mice follwoing long-term exposure to westen-type diet. Osteoarthritis Cartilage, (Nov 11. pii: S1063-4584(12)01016-3. doi: 10.1016/j.joca.2012.11.003).

4. Eleni A. Karavia, Dionysios J. Papachristou, Kassiani Liopeta, Irene-Eva Triantafyllidou, Odyssefs Dimitrakopoulos, and Kyriakos E. Kypreos (2012) Apolipoprotein A-I modulates Processes Associated with Diet-Induced Nonalcoholic Fatty Liver Disease in Mice, Mol. Med (Sep 7;18(9):901-12. doi 10.2119/molmed.2012.00113.).

5. Kyriakos E. Kypreos (2012) HDL Quality in Atherosclerosis: can ratios between apolipoproteins of HDL be used effectively to indicate risk of premature myocardial infarction? Clin. Lipidol. 7:127-29. (Invited Editorial).

6. Eleni Karavia, Dionysios J. Papachristou, Ioanna Kotsikogianni, Irene-Eva Triantafyllidou, and Kyriakos E. Kypreos (2012) Lecithin:cholesterol acyltransferase modulates the severity of diet-induced nonalcoholic fatty liver disease in mice. J. Nutr. Biochem. DOI: 10.1016/j.jnutbio.2012.02.007.

7. Anthula E. Kavo, Loukianos Rallidis, George C. Sakellaropoulos, Stefan Lehr, Sonja Hartwig, Juergen Eckel, Polixeni Mpozatzi, Panagiota Tsikrika, and Kyriakos E. Kypreos (2012) Qualitative characteristics of HDL particles in young asymptomatic patients of an acute myocardial infarction. Atherosclerosis, 220:257-64.

8. Eleni Karavia, Dionysios J. Papachristou, Ioanna Kotsikogianni and Kyriakos E. Kypreos (2011) Deficiency in Apolipoprotein E has a Protective effect on Diet-Induced Nonalcoholic Fatty Liver Disease in Mice. FEBS J, 278:3119-29. [PUBMED]

9. Peristera A. Petropoulou, Donald L. Gantz, Yanan Wang, Patrick C.N. Rensen, and Kyriakos E. Kypreos (2011). The aminoterminal 1-185 domain of human apolipoprotein E suffices for the de novo biogenesis of apoE-containing HDL. Atherosclerosis, 219:116-23.

10. Abdul Traish and Kyriakos E. Kypreos (2010) Testosterone and Cardiovascular Disease: An Old Idea with Modern Clinical Implications, Atherosclerosis, 214:244-8.

11. Eirini M. Tsompanidi, Maria S. Brinkmeyer, Elisavet H. Fotiadou, Smaragda M. Giakoumi, and Kyriakos E. Kypreos (2010) HDL biogenesis and functions: Role of HDL quality and quantity in atherosclerosis. Atherosclerosis, 208: 3-9.

12. Abdulmaged M. Traish, Rami Abdou, and Kyriakos E. Kypreos (2009) Androgen deficiency and atherosclerosis: The lipid link. Vascul Pharmacol. 51: 303-13.

PhD Theses Advisor