LYGEROU ZOI, Professor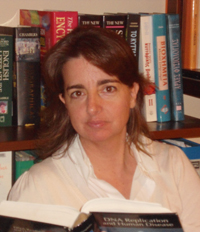 Sector: Division of Basic Medical Sciences I
Clinic/Laboratory: Department of General Biology
Knowledge Subject: Molecular Cell Biology, Genetics
Research Area: Genome stability, cell cycle control, cancer, functional imaging, modeling of biological systems
School of Medicine, University Campus, Rio, Patras, Greece 3rd floor
(+) 30 2610 997610 (+) 30 2610 991769 lygerou@upatras.gr z_lygerou@yahoo.com lygerou@med.upatras.gr
Summary of Curriculum Vitae
Zoi Lygerou is Professor of Biology at Patras Medical School, Director of the Interdepartmental Postgraduate Program "Informatics for Life Sciences", member of the Research Committee of the University of Patras and recipient of a Consolidator Grant from the European Research Council.
 She obtained her first degree from the Department of Biology, University of Athens in 1991. She was awarded a PhD degree by the University of Heidelberg in 1995 (magna cum laude) for her work at the European Molecular Biology Laboratory (EMBL) in Heidelberg, Gene Expression Program, under Iain Mattaj and Bertrand Seraphin. She held postdoctoral researcher appointments at the EMBL (under Dr. B. Seraphin) and at the Imperial Cancer Research Fund in London (under Dr. Paul Nurse). She is a member of Faculty in Patras since 1999. She is the PI on several national and international grants (including HFSP, EU-NEST/STREP and ERC grants). She co-ordinates postgraduate courses introducing interdisciplinary/innovative teaching and has organized a number of Symposia and Workshops. She is co-heading the Advanced Light Microscopy Facility of Patras Medical School and has been actively involved in improving infrastructure at the University of Patras . She acts as a reviewer for several major funding agencies (EMBO, ERC, HFPSO, MRC-UK, BBSRC, CRUK, AICR, Esthonian Research Council, Portuguese Ministry of Education, Greek Ministry of Education and others) and several major scientific journals. .
  She became EMBO Young Investigator in 2000, recipient of an ERC Consolidator Grant in 2012, EMBO Member in 2014, and  is a SET-Routes University Ambassador.
Undergraduate Courses
Postgraduate Courses
Director of Studies, Interdepartmental Postgraduate Program "Informatics for Life Sciences" (pez .upatras.gr)
Co-ordinator of MSc courses:
Research Methodology I and II (MSc in Basic Medical Sciences)
Complementary Research Skills (MSc in Basic Medical Sciences)
Bioinformatics II (MSc in Informatics for Life Sciences)
Molecular Biology-Molecular Medicine (PhD  in Clinical Specialties) up to 2011
Teacher of MSc Courses:
Bioinformatics I (MSc in Informatics for Life Sciences)
Research Methodology I  (MSc in Basic Medical Sciences)
Research Topics (MSc in Basic Medical Sciences)
Special Topics in Molecular and Cellular Biology (MSc in Basic Medical Sciences)
Current Topics in Biological Research ( (MSc in Basic Medical Sciences)
Complementary Research Skills (MSc in Basic Medical Sciences)
Molecular Genetics - Cytogenetics (MSc in Basic Medical Sciences)
Molecular Biology-Molecular Medicine (PhD  in Clinical Specialties) up to 2011 
Research Methodology (PhD  in Clinical Specialties) up to 2011 
Bioinformatics Module (MSc in Biomedical Technology) up to 2011
Selected Publications
Symeonidou IE, Kotsantis P, Roukos V, Rapsomaniki MA, Grecco HE, Bastiaens P, Taraviras S, Lygerou Z. Multi-step loading of human Mini-Chromosome Maintenance Proteins in live human cells.  J Biol. Chem.  2013, Oct 24, epublished ahead of print
Caillat C, Pefani ED, Gillespie PJ, Taraviras S, Blow JJ, Lygerou Z, Perrakis A. The Geminin and Idas coiled coils preferentially form a heterodimer that inhibits Geminin function in DNA replication licensing. J Biol. Chem.  2013, Oct 2, epublished ahead of print
Dimaki M.,  Xouri G.,  Symeonidou I.E., Sirinian H., Nishitani H., Taraviras S. and Lygerou Z. Cell-cycle dependent subcellular translocation of human Geminin.  J Biol. Chem.  2013, 288(33):23953-63
Iliou M, Kotantaki P, Karamitros D, Spella M, Taraviras S and Lygerou Z.  Reduced Geminin levels promote cellular senescence. Mech Ageing Dev. 2013,  134:10-23
Symeonidou I-E, Taraviras S and Lygerou Z. Control over DNA Replication in time and space, FEBS J., 2012, 586:2803-2812
Rapsomaniki M-A, Kotsantis P, Symeonidou I-E, Giakoumakis N-N, Taraviras S and Lygerou Z. easyFRAP: an interactive, easy-to-use tool for qualitative and quantitative analysis of Fluorescence Recovery After Photobleaching data. Bioinformatics 2012, 28(13):1800-1
Stathopoulou A, Roukos V, Petropoulou C, Kotsantis P, Karantzelis N, Nishitani H, Lygerou Z, Taraviras S. Cdt1 is differentially targeted for degradation by anticancer chemotherapeutic drugs. PLoS One. 2012;7(3):e34621.
Spella M, Kyrousi C, Kritikou E, Stathopoulou A, Guillemot F, Koussis D, Pachnis, Lygerou Z, Taraviras S (2011). Geminin regulates cortical progenitor proliferation and differentiation. Stem Cells, 29:1269-1282
Pefani DE, Dimaki M, Spella M, Karantzelis N, Mitsiki E, Kyrousi C, Symeonidou IE, Perrakis A, Taraviras S, Lygerou Z. (2011). Idas, a novel phylogenetically conserved geminin-related protein, binds to geminin and is required for cell cycle progression. J. Biol. Chem, 286:23234-46
Roukos V, Kinkhabwala A, Colombelli J, Kotsantis P, Taraviras S, Nishitani H, Stelzer E, Bastiaens P, and Lygerou Z (2011). Dynamic Recruitment of the Licensing Factor Cdt1 to Sites of DNA Damage J. Cell Science, 124:422-432
J. Lygeros, K. Koutroumpas, S. Dimopoulos, I. Legouras, P. Kouretas, C. Heichinger, P. Nurse, Z. Lygerou (2008) Stochastic hybrid modelling of DNA replication across a complete genome. Proc Natl Acad Sci USA, 105:12295-12300.
G. Xouri, A. Squire, M. Dimaki, B. Geverts, P. J. Verveer, S. Taraviras, H. Nishitani, A. B. Houtsmuller, P. I. H. Bastiaens, Z.  Lygerou.(2007) Dynamic chromatin association of Cdt1 throughout G1 leads to Geminin recruitment onto chromatin. EMBO J, 26:1303-1314.
Nishitani H, Sugimoto N, Roukos V, Nakanishi Y, Saijo M, Obuse C, Tsurimoto T, Nakayama KI, Nakayama K, Fujita M, Lygerou Z, Nishimoto T. (2006). Two E3 ubiquitin ligases, SCF-Skp2 and DDB1-Cul4, target human Cdt1 for proteolysis. EMBO J. 25(5):1126-36
Karakaidos, P., S. Taraviras, L. Vassiliou, P. Zacharatos, N. Kastrinakis, D. Kougiou, M. Kouloukoussa, H. Nishitani, A. Papavasileiou, Z. Lygerou(c) and V. Gorgoulis(c) (2004). Overexpression of the replication licensing regulators hCdt1 and hCdc6 characterizes a subset of Non-Small-Cell Lung Carcinomas: Synergistic effect with mutant p53 on tumor growth and chromosomal instability-evidence of E2F-1 transcriptional control over hCdt1. American Journal of Pathology, 165 (4): 1351-1365          (c) corresponding authors
Selected Presentations
International Workshop on Ageing and Cancer Cell Biology, Athens, June 2013
EMBO Conference on Fission Yeast, Pombe 2013, London UK, June 2013
The Replicon Meeting, Pasteur Institute, France, March 2013
Genome Stability Center, Sussex University, UK, November 2012
Presentation of the ERC Program Ideas, National Hellenic Research Foundation, October 2012
22nd IUBMB & 37th FEBS Congress Seville, September 2012
12th EMBO-EYSF meeting, Istanbul Turkey, June 2012
International Workshop on Picobiology, University of Hyogo, Japan, February 2012
Biology Department, University of Athens, February 2012
Workshop on the Biology of Cancer, organized by the Hellenic Oncology Academy, Athens, February 2012
London Research Institute, Cancer Research UK, London, July 2011
University of Oxford, Department of Zoology, Oxford, July 2011
European Light Microscopy Initiative Meeting 2011, Alexandroupoli, Greece, June 2011
Institute of Stem Cell Research, Helmholtz Zentrum Muenchen, German Research Center for Environmental Health, Munich, October 2010
Advanced Light Microscopy Symposium "Imaging Biomolecules in Time and Space", Patras, September 2010
National Center for Scientific Research "Dimokritos", Institute of Biology, Athens, February 2010
Centre for Genome Damage and Stability, Sussex, UK, October 2009
National Institute for Medical Research, London, UK, July 2009
Biomedical Research Foundation of the Academy of Athens, Athens, Mai 2009
BRFAA Course on Recent Advances and Applications in Multidimensional Confocal Microscopy, Mai 2009
HSBMB Colloquium on Cell Communication and Signaling, Thessaloniki, 3-4 April 2009
Biology Department, University of Crete, January 2009
PhD Theses Advisor
Georgia Xouri, PhD 2005.
Vassilis Roukos, PhD 2008.
Maria Dimaki, PhD 2009.
Maria Iliou, PhD 2009.
Panagiotis Kotsantis, PhD 2011.
Eleanna Symeonidou, PhD 2012.
Dafni Pefani, PhD 2012.
Maria-Anna Rapsomaniki (Life Sciences Informatics, 2012- )
Marina Arbi (Basic Medical Sciences, 2012-)
Nickolaos Nikiforos Giakoumakis (Life Sciences Informatics, 2012-)
Alexandra Kanellou (Basic Medical Sciences, 2012-)
Other Activities
ERC Consolidator Grant 2012-2017
SET-Routes University Ambassador (2007-)
EMBO Young Investigator 2001