CHRONI ELISABETH, Professor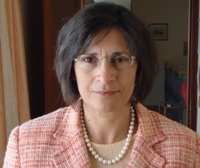 Sector: Division of Internal Medicine ΙΙ
Clinic/Laboratory: Department of Neurology
Knowledge Subject: Neurology / Neurophysiology
Research Area: Neuromuscular diseases, clinical neuro-physiology: electro-myography, transcranial magnetic stimulation, autonomic nervous system tests
Department of Neurology, University Hospital of Patras, Rion 26505 Achaia 4th level, 3rd section
+30 2610999570 echroni@yahoo.com echroni@upatras.gr
Summary of Curriculum Vitae
She was born in Athens, Greece in 1960. She graduated from the School of Medicine, University of Patras in 1984 and was trained in Neurology in Evagelismos Hospital (1987 - 1990), followed by subspeciality training in Clinical Neurophysiology in St. Thomas' Hospital, London (1990-1994). She was appointed Lecturer of Neurology in the Univerisity of Patras in 1998, Assistant Professor in 2003 and Professor in 2010. Since September 2016 she is the Director of the Neurology Department of the University Hospital of Patras. She hold a PhD thesis from the University of London (Guys' and St. Thomas' United Medial and Dental Schools) entitled " F chrono-dispersion and F tacheodispersion: A study of conduction properties of motor nerve fibers in normal and pathological conditions". She is currently a Member of Greek Neurological Association and of Greek Neurophysiological Association (former vise-president). She has participated in neurophysiological projects funded by Special Trustees of St. Thomas Hospital & British Polio Society, and currently participates in  "En-noisi", a Greek project of artificial intelligence for the early diagnosis, follow-up and support of patients with mild mental disorder and dementia and  in "No Tremor", a collaborative project financed from EC on neuromuscular model of Parkinson disease. She is member of editorial committee in 1 journal, invited reviewer in 30 international journals and author of 131 peer reviewed articles (total impact factor 480, citations in scopus 2350 and H index 21)
Undergraduate Courses
Postgraduate Courses
Participation in lectures and literature reviews as part of educational program of Neurological Department. Invited speaker to other Departments of the Medical School.
Selected Publications
1. Panayiotopoulos C P, Chroni E and Daskalopoulos C. Significance of F-Chronodispersion in the Electrodiagnosis of Guillain-Barre Syndrome and other Motor Neuropathies.  Arch Neurol 1992; 49:217-218. 
2. Grünewald R A, Chroni E, Panayiotopoulos C P.  Delayed diagnosis of juvenile Myoclonic Epilepsy.  J Neurol Neurosurg Psychiatry 1992; 55:497-499. 
3. Chroni E, Patel R L, Taub N, Venn G E, Howard R S, Panayiotopoulos C P.  A comprehensive electrophysiological evaluation of phrenic nerve injury related to open-heart surgery.  Acta Neurol Scand 1995; 91:255-259. 
4. Panayiotopoulos C P, Chroni E. F-waves in clinical neurophysiology:  a  review, methodological  issues  and  overall value in Peripheral neuropathies.   Electromyogr  Motor  C  –  Electroencephalogr Clin Neurophysiol 1996; 101:365-374.
5. Chroni E, Paschalis C, Arvaniti C, Zotou K, Nikolakopoulou A, Papapetropoulos T. Carpal tunnel syndrome and hand configuration. Muscle Nerve 2001; 24:1607-1611.
6. Chroni E, Georgiou S, Monastirli A, Paschalis C, Tsambaos D. Effects of short term oral acitretin therapy on peripheral nerve function: a prospective neurological and neurophysiological study. Acta Derm Venereol 2001; 81:423-425.
7. Chroni E, Papapetropoulos S Gioldasis G, Ellul J, Diamadopoulos N, Papapetropoulos T. Guillain-Barré syndrome in Greece. Seasonality and other clinico-epidemiological features. Eur J Neurol 2004; 11:383-388.
8. Argyriou AA, Chroni E, Koutras A, Ellul J, Papapetropoulos S, Katsoulas G, Iconomou G, Kalofonos HP. Vitamin E for prophylaxis against chemotherapy-induced neuropathy: a randomized controlled trial. Neurology 2005; 64:26-31.
9. Argyriou AA, Polychronopoulos P, Papapetropoulos S, Ellul J, Andriopoulos I, Katsoulas G, Salakou S, Chroni E. Clinical and epidemiological features of motor neuron disease in southwestern Greece. Acta Neurol Scand 2005; 111:108-113.
10. Chroni E, Patsoukis N, Karageorgos N, Konstantinou D, Georgiou C. Brain Oxidative stress induced by obstructive jaundice in rats. J Neuropathol Exp Neurol 2006; 65:193-198.
11. Argyriou AA, Polychronopoulos P, Iconomou G, Chroni E, Kalofonos HP. A review on oxiliplatin-induced peripheral nerve damage. Cancer Treat Rev 2008; 34:368-377.
12. Grintzalis K, Papapostolou I, Assimakopoulos SF, Mavrakis A, Faropoulos K, Karageorgos N, Georgiou C, Chroni E, Konstantinou D. Time-related alterations of superoxide radical levels in diverse organs of bile duct-ligated rats. Free Radical Research 2009; 43:803-808.
13. Trachani E, Constantoyannis C, Sirrou V, Kefalopoulou Z, Markaki E, Chroni E. Effects of subthalamic nucleus deep brain stimulation on sweating function in Parkinson disease. Clin Neurol Neurosurg 2010; 112:213-217.
14. Chroni E, Monastirli A, Tsambaos D. Neuromuscular adverse effects associated with systemic retinoid dermatotherapy: monitoring and treatment algorithm for clinicians. Drug Saf 2010;
33:25-34.
15. Chroni E, Tendero IS, Punga AR, Stålberg E. Usefulness of assessing repeater F-waves in routine studies. Muscle Nerve 2012 Apr; 45(4):477-485.
Selected Presentations
Most Reccent: Neurophysiological evaluation of mechanically injured peripheral nerves and muscles - EMG recordings. In pre-course 2:wavelet analysis of biological signals, 19th Congress of the European Society of Biomechanics, Patras, Greece, 25-28 August 2013.
PhD Theses Advisor
-She was the Supervising Professor in 4 successfully completed   Ph.D. theses in the Medical School of the University of Patras. The first thesis was referred to neuroprotection from chemotherapy induced neuropathy (completed in 2006). The second one dealt with abnormalities of autonomic nervous system in patients with epilepsy (completed in 2009). The third thesis examined the effect of deep brain stimulation on the autonomic nervous system manifestations of patients with Parkinson disease (completed in 2010). The forth thesis studied muscle atrophy and motor unit numbers in patients after stroke (completed in 2016).
-She was a Member of the Advisor Committee in 6 Ph.D. completed theses.