TARAVIRAS STAVROS, Professor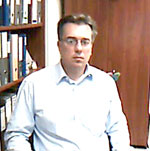 Sector: Division of Basic Medical Sciences II
Clinic/Laboratory: Department of Physiology
Knowledge Subject: Physiology
Research Area: Understanding mechanisms that regulate stem cell self-renewal, maintenance and differentiation
DEPT. OF PHYSIOLOGY, KTHRIO BASIKON IATRIKON EPISTHMON, MEDICAL SCHOOL, UNIVERSITY OF PATRAS PANEPISTHMIOUPOLIS, 26504 RIO, PATRAS GREECE
00302610997943 00302610997215 taraviras@med.upatras.gr
Summary of Curriculum Vitae
Stavros Taraviras is at the Department of Physiology at the Medical School, University of Patras, Greece. He holds a Ph.D from the University of Heidelberg, Germany and postdoctoral research appointments at the German Cancer Research Center in Heidelberg and the MRC/National Institute for Medical Research in London, UK.
His research work has been funded by several national and international competitive research grants as a coordinator or PI, while he have participated in more than 20 national and international grants as a collaborating researcher. Funding agencies that have supported my research include Association for International Cancer Research, Leukaemia Research Foundation, EU NEST-STREP, EU REGPOT, Foundation Santé, etc.
Main organiser or co-organiser in more than 10 international and national symposia and practical courses.
Pregraduate teaching: Second and third year of Medical School students: subject "Pharmacology", "Physiology", "Neuroscience", "Physiology and Biology of stem cells-applications in Regenerative Medicine".
Undergraduate Courses
Postgraduate Courses
Postgraduate teaching: First and Second year teaching in 3 Postgraduate Programs organized by the Medical School, University of Patras: "Applications of Basic Medical Sciences", "Clinical Specializations" and "Life Sciences Informatics". Co-ordinator of the postgraduate courses: "Modern themes of Biomedical Research", "Contemporary issues of Biology Research"
Selected Publications
Iliou MS, Kotantaki P, Karamitros D, Spella M, Taraviras S, Lygerou Z. Reduced Geminin levels promote cellular senescence. Mech Ageing Dev. 2013 Jan-Feb;134(1-2):10-23.
Dimaki M, Xouri G, Symeonidou IE, Sirinian C, Nishitani H, Taraviras S, Lygerou Z. Cell cycle-dependent subcellular translocation of the human DNA licensing inhibitor geminin. J Biol Chem. 2013 Aug 16;288(33):23953-63.
Caillat C, Pefani DE, Gillespie PJ, Taraviras S, Blow JJ, Lygerou Z, Perrakis A. The Geminin and Idas coiled coils preferentially form a heterodimer that inhibits Geminin function in DNA replication licensing. J Biol Chem. 2013 Nov 1;288(44):31624-34.
Symeonidou IE, Kotsantis P, Roukos V, Rapsomaniki MA, Grecco HE, Bastiaens P, Taraviras S, Lygerou Z. Multi-step loading of human minichromosome maintenance proteins in live human cells. J Biol Chem. 2013 Dec 13;288(50):35852-67.
Champeris Tsaniras S, Kanellakis N, Symeonidou IE, Nikolopoulou P, Lygerou Z, Taraviras S. Licensing of DNA replication, cancer, pluripotency and differentiation: An interlinked world? Semin Cell Dev Biol. 2014 Jun;30:174-80. * Corresponding author.
Karamitros D, Patmanidi AL, Kotantaki P, Potocnik AJ, Bähr-Ivacevic T, Benes V, Lygerou Z, Kioussis D, Taraviras S. Geminin deletion increases the number of fetal hematopoietic stem cells by affecting the expression of key transcription factors. Development. 2015 Jan 1;142(1):70-81. doi: 10.1242/dev.109454. 
Giannou AD, Marazioti A, Spella M, Kanellakis NI, Apostolopoulou H, Psallidas I, Prijovich ZM, Vreka M, Zazara DE, Lilis I, Papaleonidopoulos V, Kairi CA, Patmanidi AL, Giopanou I, Spiropoulou N, Harokopos V, Aidinis V, Spyratos D, Teliousi S, Papadaki H, Taraviras S, Snyder LA, Eickelberg O, Kardamakis D, Iwakura Y, Feyerabend TB, Rodewald HR, Kalomenidis I, Blackwell TS, Agalioti T, Stathopoulos GT. Mast cells mediate malignant pleural effusion formation. J Clin Invest. 2015 Apr 27. pii: 79840.
Kyrousi C, Arbi M, Pilz GA, Pefani DE, Lalioti ME, Ninkovic J, Götz M, Lygerou Z, Taraviras S. Mcidas and GemC1 are key regulators for the generation of multiciliated ependymal cells in the adult neurogenic niche. Development. 2015 Nov 1;142(21):3661-74. 
Stathopoulou A, Natarajan D, Nikolopoulou P, Patmanidi AL, Lygerou Z, Pachnis V, Taraviras S. Inactivation of Geminin in neural crest cells affects the generation and maintenance of enteric progenitor cells, leading to enteric aganglionosis. Dev. Biol. 2016 Jan 15;409(2):392-405.
Arbi M, Pefani DE, Kyrousi C, Lalioti ME, Kalogeropoulou A, Papanastasiou AD, Taraviras S, Lygerou Z. GemC1 controls multiciliogenesis in the airway epithelium. EMBO Rep. 2016 Mar;17(3):400-13.
C Kyrousi, ME Lalioti, E Skavatsou, Z Lygerou, S Taraviras. Mcidas and GemC1/Lynkeas specify embryonic radial glial cells. Neurogenesis. 2016 3 (1), e1172747. * Corresponding author.
Konstantinidou C, Taraviras S, Pachnis V. Geminin prevents DNA damage in vagal neural crest cells to ensure normal enteric neurogenesis. BMC Biol. 2016 Oct 24;14(1):94. 
Patmanidi AL, Champeris Tsaniras S, Karamitros D, Kyrousi C, Lygerou Z, Taraviras S. Geminin-a Tale of Two Tails: DNA Replication and Transcriptional/Epigenetic Regulation in Stem Cells. Stem Cells. 2016 Nov 11. 
Taouki I, Tasiudi E, Lalioti ME, Kyrousi C, Skavatsou E, Kaplani K, Lygerou Z, Kouvelas ED, Mitsacos A, Giompres P, Taraviras S. Geminin Participates in Differentiation Decisions of Adult Neural Stem Cells Transplanted in the Hemiparkinsonian Mouse Brain. Stem Cells Dev. 2017 Aug 15;26(16):1214-1222. 
Kyrousi C, Lygerou Z, Taraviras S. How a radial glial cell decides to become a multiciliated ependymal cell. Glia. 2017 Jul;65(7):1032-1042. doi: 10.1002/glia.23118
Patmanidi AL, Champeris Tsaniras S, Karamitros D, Kyrousi C, Lygerou Z, Taraviras S. Concise Review: Geminin-A Tale of Two Tails: DNA Replication and Transcriptional/Epigenetic Regulation in Stem Cells. Stem Cells. 2017 Feb;35(2):299-310. doi: 10.1002/stem.2529.
Marazioti A, Lilis I, Vreka M, Apostolopoulou H, Kalogeropoulou A, Giopanou I, Giotopoulou GA, Krontira AC, Iliopoulou M, Kanellakis NI, Agalioti T, Giannou AD, Jones-Paris C, Iwakura Y, Kardamakis D, Blackwell TS, Taraviras S, Spella M, Stathopoulos GT. Myeloid-derived interleukin-1β drives oncogenic KRAS-NF-κΒ addiction in malignant pleural effusion. Nat Commun. 2018 Feb 14;9(1):672. doi: 10.1038/s41467-018-03051-z.
Kaplani K, Koutsi S, Armenis V, Skondra FG, Karantzelis N, Champeris Tsaniras S, Taraviras S. Wound healing related agents: Ongoing research and perspectives.  Adv Drug Deliv Rev. 2018 Apr;129:242-253. doi: 10.1016/j.addr.2018.02.007. Epub 2018 Mar 1. 
Arbi, M, Pefani, DE, Taraviras, S, Lygerou Z. Controlling centriole numbers: Geminin family members as master regulators of centriole amplification and multiciliogenesis. Chromosoma, 2018 Jun;127(2):151-174. doi: 10.1007/s00412-017-0652-7
Maxouri S, Taraviras S, Lygerou Z. Visualizing the dynamics of histone variants in the S-phase nucleus. Genome Biol. 2018 Oct 31;19(1):182. doi: 10.1186/s13059-018-1556-4.
Champeris Tsaniras S, Villiou M, Giannou AD, Nikou S, Petropoulos M, Pateras IS, Tserou P, Karousi F, Lalioti ME, Gorgoulis VG, Patmanidi AL, Stathopoulos GT, Bravou V, Lygerou Z, Taraviras S. Geminin ablation in vivo enhances tumorigenesis through increased genomic instability.  J Pathol. 2018 Oct;246(2):134-140. doi: 10.1002/path.5128. 
Koulouras G, Panagopoulos A, Rapsomaniki MA, Giakoumakis NN, Taraviras S, Lygerou Z. EasyFRAP-web: a web-based tool for the analysis of fluorescence recovery after photobleaching data. Nucleic Acids Res. 2018 Jul 2;46(W1):W467-W472. doi: 10.1093/nar/gky5
Lalioti ME, Arbi M, Loukas I, Kaplani K, Kalogeropoulou A, Lokka G, Kyrousi C, Mizi A, Georgomanolis T, Josipovic N, Gkikas D, Benes V, Politis PK, Papantonis A, Lygerou Z, Taraviras S. GemC1 governs multiciliogenesis through direct interaction and transcriptional regulation of p73. J Cell Sci. 2019 Apr 26. pii: jcs.228684. doi: 10.1242/jcs.228684 
Kalogeropoulou A, Lygerou Z, Taraviras S. Cortical Development and Brain Malformations: Insights From the Differential Regulation of Early Events of DNA Replication. Front Cell Dev Biol. 2019 Mar 11;7:29. doi: 10.3389/fcell.2019.00029. eCollection 2019. 
Ortiz-Álvarez G, Daclin M, Shihavuddin A, Lansade P, Fortoul A, Faucourt M, Clavreul S, Lalioti ME, Taraviras S, Hippenmeyer S, Livet J, Meunier A, Genovesio A, Spassky N. Adult Neural Stem Cells and Multiciliated Ependymal Cells Share a Common Lineage Regulated by the Geminin Family Members. Neuron. 2019 Apr 3;102(1):159-172.e7. doi: 10.1016/j.neuron.2019.01.051.
Petropoulos M, Champeris Tsaniras S, Taraviras S, Lygerou Z. Replication Licensing Aberrations, Replication Stress, and Genomic Instability. Trends Biochem Sci. 2019 Sep;44(9):752-764. doi: 10.1016/j.tibs.2019.03.011. Epub 2019 May 1.
Lalioti ME, Kaplani K, Lokka G, Georgomanolis T, Kyrousi C, Dong W, Dunbar A, Parlapani E, Damianidou E, Spassky N, Kahle KT, Papantonis A, Lygerou Z, Taraviras S. GemC1 is a critical switch for neural stem cell generation in the postnatal brain. Glia. 2019 Jul 22. doi: 10.1002/glia.23690. 
– A PubMed link to the entire bibliography of the investigator
https://www.ncbi.nlm.nih.gov/pubmed/?term=Taraviras
Selected Presentations
Institute of Child Health, University College of London, 30 Guilford Street, London WC1N 1EH, Ιούλιος 2008.
Faculty of Medicine, Imperial College London, Institute of Reproductive and Developmental Biology, Hammersmith Hospital July 2010
"Imaging Biomolecules in Time and Space", An Advanced Light Microscopy Symposium, Conference Center of the University of Patras, University Campus, Rio Patras, Greece, 24-26 September 2010
Netherland Cancer Institute, Amsterdam June 2011.
Institute of Child Health, University College of London, UK, Ιούλιος 2011.
12ο Πανελλήνιο Συνέδριο Φυσικής Ιατρικής & Αποκατάστασης, Πάτρα Οκτώβριος 2011.
Helmholtz Zentrum München, Deutsches Forschungszentrum für Gesundheit und Umwelt (GmbH), Munchen, November 2011.
Faculty of Natural Sciences, Department of Life Sciences, Imperial College of London, UK, July 2011
IBEEA, Αθήνα, Ιανουάριος 2012
International Workshop on Picobiology, University of Hyogo, Japan, February 2012
School of Life Sciences, University of Sussex, November 2012
3rd Congress Cell Science and Stem Cell Research, Baltimore, USA, November 2013
Beth Israel Deaconess Medical Center, Harvard Medical School, USA, November 2013
Tufts Medical Center, Boston, USA, November 2013
Weatherall Institute of Molecular Medicine, Oxford, UK, June 2013
FEBS/EMBO Conference, Paris, September 2014 (selected oral presentation out of 2500 participants)
The Notch meeting, September 2014
Views into nuclear function September 2014
VW Symposium, Hannover October 2014
Μύθος και πραγματικότητα για τα βλαστοκύτταρα, Επιστήμη στη ζωήμας, Megaron Plus, Μέγαρο Μουσικής Μάιος 2014
Klinik für Kinder- und Jugendmedizin, Allgemeine Pädiatrie -Universitätsklinikum Münster, Münster, November 2015
13th Annual Meeting of International Society for Stem Cell Research, Stockholm, June, 2015, 
Laboratory of Neurosciences, Department of Veterinary Medicine, University of Cambridge, July 2015
Onassis Lecture Series on Stem Cells, THE ONASSIS FOUNDATION SCIENCE LECTURE SERIES, July 2015
Institutul De Biologie Şi Patologie Celulară N. Simionescu, ICBP Bucarest, Roumania, December 2015
Institut de Biologie de l'Ecole Normale Supérieure Paris, June 2016
School of Biomedical Sciences, Centre for Integrative Physiology, University of Edinburgh, Edinburgh, July 2016
 National Institute for Medical Research London, July 2016
IEO European Institute of Oncology Milano, October 2016.
Matrix Biology 2016, Ireland, November 2016
Center for Molecular Medicine, Cologne 07/2017
Medical School, Institute for Physiological Chemistry, Mainz 07/2017
EMBO Conference on Gene regulatory mechanisms in Neural fate decisions Alicante 09/2017
Oxford Institute for Radiation Oncology, Department of Oncology, Oxford 01/2018
Department of Biological Science, University of Cyprus, Nicosia 03/2018
Research integrity University of Patras 05/2018
GENEDIS 2018, Toronto, 10/2018
Conference on Epigenetics in the nervous system: Development and Disease Stockholm 10/2018
NQSigma Lecture, School of Medicine, University of Maryland 10/2018
FENS Regional Meering Serbia 07/2019
Hydrocephalus Association Workshop, Washington University St Luis, 11/2019
PhD Theses Advisor
Πανωραία Κοταντάκη Θέμα: Δημιουργία ζώων μοντέλων για τη μελέτη του in vivo ρόλου της Geminin: αδρανοποίηση του γονιδίου σε μυς με τη χρήση ολοδύναμων εμβρυικών κυττάρων (knockout) και ιστοειδική υπερέκφραση σε διαγονιδιακούς μυς.
Μάγδα Σπέλλα Θέμα: Μελέτη του ρόλου της Geminin στη δημιουργία και διαφοροποίηση των πολυδύναμων κυττάρων του εγκεφαλικού φλοιού.
Νικόλαος Καραντζέλης Θέμα: Δομική και λειτουργική μελέτη του συμπλόκου Geminin/Cdt1 και μελέτη του ρόλου της Geminin στο περιφερικό νευρικό σύστημα» τροποποιείται ως εξής «Δομική και λειτουργική μελέτη του συμπλόκου Geminin/Cdt1 και μελέτη συνθετικών ενώσεων που το τροποποιούν.
Δημήτριος Καραμήτρος Θέμα: Διερεύνηση του ρόλου της Geminin στην ανάπτυξη και διαφοροποίηση αρχέγονων/προγονικών κυττάρων του αιμοποιητικού συστήματος σε γενετικά τροποποιημένους μύες.
Αθανασία Σταθοπούλου Θέμα: Μελέτη του ρόλου του μορίου της Geminin στον πολλαπλασιασμό, μετανάστευση και διαφοροποίηση πολυδύναμων κυττάρων της νευρικής ακρολοφίας σε γενετικά τροποποιημένους μύες.
Χριστίνα Κυρούση Θέμα: Μελέτη των εμβρυικών και ενήλικων νευρικών βλαστικών κυττάρων στον εγκέφαλο ζωικών μοντέλλων μετά από τροποποίηση των γονιδίων της υπεροικογένειας της Geminin.
Σπύρος Τσανίρας Χαμπέρης, Θέμα: Ο ρόλος των παραγόντων Geminin και Cdt1 στην καρκινογένεση του πνεύμονα.