MARANGOS MARKOS, Professor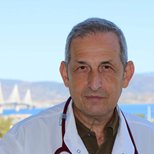 Sector: Division of Internal Medicine Ι
Clinic/Laboratory: Department of Internal Medicine
Knowledge Subject: Internal Medicine/Infectious Diseases
Research Area: pk/pd of antibiotics, experimental endocarditis, nosocomial infections in ICU and immunocompromised patients, HIV/AIDS
Department of Internal Medicine, Division of Infectious Diseases University Hospital of Patras, Rio 26500, Greece
+302613603740, +30 2610993429 +302610993429 mmarangos@yahoo.com marangos@upatras.gr
Summary of Curriculum Vitae
Dr. Marangos obtained his M.D. from the University of Athens Medical School (1984) and his Ph.D. degree through the University of Patras Medical School. He completed his Internship and Residency in Internal Medicine at the University Hospital of Patras, Patras Greece. Dr. Marangos then subsequently completed a Research Fellowship in Infectious Diseases at the Hartford Hospital, Hartford, Connecticut (1993-1995), and a Clinical Fellowship in Infectious Diseases at the Maine Medical Center, Portland, Maine,  USA (1995-997). During his fellowship, he was also trained at the AIDS consultation service of Maine Medical Center.     After his training, Dr. Marangos was appointed as Attending Physician at the Dept of Internal Medicine, Division of Infectious Diseases, University Hospital of Patras, Greece (1997).  He subsequently was elected as Assistant Professor of Medicine / Infectious Diseases, at the Medical School, University of Patras, Greece (2005) and he reached the rank of full Professor (2014).
Currently, he is Chief of the Division of Infectious Diseases, University Hospital of Patras, which is a major tertiary care University Hospital, serving Southern and Western Greece. The ID service of which he is head, consults the SOT and HSCT Units of the Hospital, the ICU and PICU, and all other departments of the Hospital. He runs also the HIV/AIDS outpatient Unit.  He participates in the Infection Control and Antimicrobial Stewardship programs of the University Hospital. Dr. Marangos authored or co-author more than 150 peer-reviewed papers in the fields of antimicrobial chemotherapy, HIV infection, hospital epidemiology, medical mycology, zoonoses, orthopedic infections, and infection in immunocompromised hosts. He published in highly esteemed ID journals, such as Antimicrobial Agents and Chemotherapy, Journal of Antimicrobial Chemotherapy, International Journal of Antimicrobial Agents, Clinical Microbiology and Infection, Diagnostic Microbiology and Infectious Diseases, Infection, and others.  
He is Chairman of the Scientific Committee at the University Hospital of Patras since 2016. Dr. Marangos  is a member of  the Hellenic Society for Infectious Diseases (Member of the Executive Committee  2011-2017 and General Secretary of the Society 2014-2017 ), the Infectious Diseases Society of America,   the European Society of Clinical Microbiology and Infectious Diseases and the HIV Medicine Association (USA).
Vice Rector for Student Affairs (since 01-09-2020)
Undergraduate Courses
Selected Publications
1. Argiris Symeonidis and Markos Marangos (2012). Iron and Microbial Growth, Insight and Control of Infectious Disease in Global Scenario, Priti Kumar Roy (Ed.), ISBN: 978-953-51-0319-6, InTech, 2. Papadimitriou-Olivgeris M, Marangos M, Fligou F, Christofidou M, Sklavou C,Vamvakopoulou S, Anastassiou ED, Filos KS. KPC-producing Klebsiella pneumoniae enteric colonization acquired during intensive care unit stay: the significance of risk factors for its development and its impact on mortality. Diagn Microbiol Infect Dis. 2013 Oct;77(2):169-73. 3. Akinosoglou K, Apostolakis E, Marangos M, Pasvol G. Native valve right sided infective endocarditis. Eur J Intern Med. 2013 Sep;24(6):510-9. 4. Akinosoglou KS, Karkoulias K, Marangos M. Infectious complications in patients with lung cancer. Eur Rev Med Pharmacol Sci. 2013 Jan;17(1):8-18. Review. 5. Papadimitriou-Olivgeris M, Marangos M, Fligou F, Christofidou M, Bartzavali C, Anastassiou ED, Filos KS. Risk factors for KPC-producing Klebsiella pneumoniae enteric colonization upon ICU admission. J Antimicrob Chemother. 2012 Dec;67(12):2976-81. 6. Papasotiriou M, Savvidaki E, Kalliakmani P, Papachristou E, Marangos M, Fokaefs E, Maroulis I, Karavias D, Goumenos DS. Predisposing factors to the development of urinary tract infections in renal transplant recipients and the impact on the long-term graft function. Ren Fail. 2011;33(4):405-10 7. Spyridonidis A, Liga M, Triantafyllou E, Themeli M, Marangos M, Karakantza M, Zoumbos N. Pharmacokinetics and clinical activity of very low-dose alemtuzumab in transplantation for acute leukemia. Bone Marrow Transplant. 2011 Oct;46(10):1363-8. 8. Tyllianakis ME, Karageorgos ACh, Marangos MN, Saridis AG, Lambiris EE. Antibiotic prophylaxis in primary hip and knee arthroplasty: comparison between cefuroxime and two specific antistaphylococcal agents. J Arthroplasty. 2010 Oct;25(7):1078-82. 9. Giannikoulis C, Karkoulias K, Thomopoulos K, Marangos M, Spiropoulos K, Nikolopoulou V. Patients with gastroesophageal reflux disease and manifestations do not present lung function disorders during cardiopulmonary exercise test. Dis Esophagus. 2011 Apr;24(3):189-93. 10. Karanikolas M, Velissaris D, Marangos M, Karamouzos V, Fligou F, Filos KS. Prolonged high-dose intravenous magnesium therapy for severe tetanus in the intensive care unit: a case series. J Med Case Rep. 2010 Mar 31;4:100. 11. Liakopoulos A, Spiliopoulou I, Damani A, Kanellopoulou M, Schoina S, Papafragas E, Marangos M, Fligou F, Zakynthinos E, Makris D, Protonotariou E,Tsiapara F, Filos K, Diza E, Anastassiou ED, Petinaki E. Dissemination of two international linezolid-resistant Staphylococcus epidermidis clones in Greek hospitals. J Antimicrob Chemother. 2010 May;65(5):1070-1 12. Starakis I, Marangos M, Gikas A, Pediaditis I, Bassaris H. Repeated point prevalence survey of nosocomial infections in a Greek university hospital. J Chemother. 2002 Jun;14(3):272-8. 13. Ernst ME, Klepser ME, Fouts M, Marangos MN. Tetanus: pathophysiology and management. Ann Pharmacother. 1997 Dec;31(12):1507-13. Review. 14. Marangos MN, Nicolau DP, Quintiliani R, Nightingale CH. Influence of gentamicin dosing interval on the efficacy of penicillin-containing regimens in experimental Enterococcus faecalis endocarditis. J Antimicrob Chemother. 1997 Apr;39(4):519-22. 15. Klepser ME, Marangos MN, Zhu Z, Nicolau DP, Quintiliani R, Nightingale CH. Comparison of the bactericidal activities of piperacillin-tazobactam, ticarcillin-clavulanate, and ampicillin-sulbactam against clinical isolates of Bacteroides fragilis, Enterococcus faecalis, Escherichia coli, and Pseudomonas aeruginosa. Antimicrob Agents Chemother. 1997 Feb;41(2):435-9. 16. Nicolau DP, Marangos MN, Nightingale CH, Patel KB, Cooper BW, Quintiliani R Jr, Courvalin P, Quintiliani R. Efficacy of vancomycin and teicoplanin alone and in combination with streptomycin in experimental, low-level vancomycin-resistant, VanB-type Enterococcus faecalis endocarditis. Antimicrob Agents Chemother. 1996 Jan;40(1):55-60. . 17. Marangos MN, Skoutelis AT, Nightingale CH, Zhu Z, Psyrogiannis AG, Nicolau DP, Bassaris HP, Quintiliani R. Absorption of ciprofloxacin in patients with diabetic gastroparesis. Antimicrob Agents Chemother. 1995 Sep;39(9):2161-3. 18. Oneyji CO, Nightingale CH and Marangos MN.Enhanced Killing of Methicillin resistant Staphylococcus aureus in Human Macrophages by Liposome entrapped Vancomycin and Teicoplanin. Infection.1994; 22:338-342
Selected Presentations
1.Infections in Lung Cancer Patients" 5th International Congress on Lung Cancer, January 24-27 2007, Patras Greece 2.Prevention of Antimicrobial Resistance in hospitals. New developments in the Prevention and Control of Infections in Health Care Settings. Cyprus 30-31/05/2008 (INTERREG IIIA) 3.10 years of European SMART data. Surgical Infections Symposium Prague, Czech Rebublic March 15th-16th 2013