KARDAMAKIS DIMITRIOS, Professor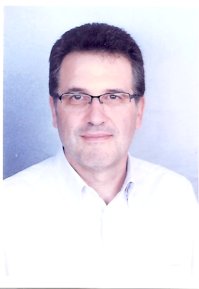 Sector: Division of Clinical Laboratories
Clinic/Laboratory: Department of Radiology
Knowledge Subject:
Research Area:
kardim@upatras.gr kardim@med.upatras.gr
Undergraduate Courses
Selected Publications
Kardamakis D, Berry RJ. Low-dose total-body irradiation in the management of refractory rheumatoid arthritis. Br J Radiol. 1987;60(711):297-9.
Hatjikondi O, Ravazoula P, Kardamakis D, Dimopoulos J, Papaioannou S. In vivo experimental evidence that the nitric oxide pathway is involved in the X-ray-induced antiangiogenicity. Br J Cancer. 1996;74(12):1916-23
Skarlos DV, Samantas E, Briassoulis E, Panoussaki E, Pavlidis N, Kalofonos HP, Kardamakis D, Tsiakopoulos E, Kosmidis P, Tsavdaridis D, Tzitzikas J, Tsekeris P, Kouvatseas G, Zamboglou N, Fountzilas G. Randomized comparison of early versus late hyperfractionated thoracic irradiation concurrently with chemotherapy in limited disease small-cell lung cancer: a randomized phase II study of the Hellenic Cooperative Oncology Group (HeCOG). Ann Oncol. 2001;12(9):1231-8.
Iconomou G, Viha A, Kalofonos HP, Kardamakis D. Impact of cancer on primary caregivers of patients receiving radiation therapy. Acta Oncol. 2001;40(6):766-71.
Giannopoulou E, Katsoris P, Parthymou A, Kardamakis D, Papadimitriou E. Amifostine protects blood vessels from the effects of ionizing radiation. Anticancer Res. 2002;22(5):2821-6.
Parthymou A, Kardamakis D, Pavlopoulos I, Papadimitriou E. Irradiated C6 glioma cells induce angiogenesis in vivo and activate endothelial cells in vitro. Int J Cancer. 2004;110(6):807-14.
Tsamandas AC, Kardamakis D, Ravazoula P, Zolota V, Salakou S, Tepetes K, Kalogeropoulou C, Tsota I, Kourelis T, Makatsoris T, Karavias D, Scopa CD, Bonikos DS, Kalofonos HP, Petsas T. The potential role of TGFbeta1, TGFbeta2 and TGFbeta3 protein expression in colorectal carcinomas. Correlation with classic histopathologic factors and patient survival. Strahlenther Onkol. 2004;180(4):201-8.
Van Der Giessen PH, Alert J, Badri C, Bistrovic M, Deshpande D, Kardamakis D, Van Der Merwe D, Da Motta N, Pinillos L, Sajjad R, Tian Y, Levin V. Multinational assessment of some operational costs of teletherapy. Radiother Oncol. 2004;71(3):347-55.
Zabakis P, Kardamakis DM, Siablis D, Kalogeropoulou C, Karnabatidis D, Malatara G, Dimopoulos IA. External beam radiation therapy reduces the rate of re-stenosis in patients treated with femoral stenting: results of a randomised study. Radiother Oncol. 2005;74(1):11-6
Vassiliou V, Kalogeropoulou C, Christopoulos C, Solomou E, Leotsinides M, Kardamakis D. Combination ibandronate and radiotherapy for the treatment of bone metastases: clinical evaluation and radiologic assessment. Int J Radiat Oncol Biol Phys. 2007;67(1):264-72.
Vassiliou V, Kalogeropoulou C, Giannopoulou E, Leotsinidis M, Tsota I, Kardamakis D. A novel study investigating the therapeutic outcome of patients with lytic, mixed and sclerotic bone metastases treated with combined radiotherapy and ibandronate. Clin Exp Metastasis. 2007;24(3):169-78.
Kalofonos HP, Bamias A, Koutras A, Papakostas P, Basdanis G, Samantas E, Karina M, Misailidou D, Pisanidis N, Pentheroudakis G, Economopoulos T, Papadimitriou C, Skarlos DV, Pectasides D, Stavropoulos M, Bafaloukos D, Kardamakis D, Karanikiotis C, Vourli G, Fountzilas G; Hellenic Cooperative Oncology Group Study. A randomised phase III trial of adjuvant radio-chemotherapy comparing Irinotecan, 5FU and Leucovorin to 5FU and Leucovorin in patients with rectal cancer: a Hellenic Cooperative Oncology Group Study. Eur J Cancer. 2008;44(12):1693-700.
Le Péchoux C, Dunant A, Senan S, Wolfson A, Quoix E, Faivre-Finn C, Ciuleanu T, Arriagada R, Jones R, Wanders R, Lerouge D, Laplanche A; Prophylactic Cranial Irradiation (PCI) Collaborative Group. Standard-dose versus higher-dose prophylactic cranial irradiation (PCI) in patients with limited-stage small-cell lung cancer in complete remission after chemotherapy and thoracic radiotherapy (PCI 99-01, EORTC 22003-08004, RTOG 0212, and IFCT 99-01): a randomised clinical trial. Lancet Oncol. 2009;10(5):467-74.
Lo SS, Sahgal A, Hartsell WF, Lutz ST, Kardamakis D, van der Linden Y, Hoskin PJ. The treatment of bone metastasis with highly conformal radiation therapy: a brave new world or a costly mistake? Clin Oncol (R Coll Radiol). 2009;21(9):662-4.
Vomvas D, Iconomou G, Soubasi E, Leotsinidis M, Kalofonos HP, Beratis S, Kardamakis D, Assimakopoulos K. Assessment of sexual function in patients with cancer undergoing radiotherapy--a single centre prospective study. Anticancer Res. 2012;32(2):657-64.
Selected Presentations
The biology of Small Cell Lung Cancer: Current Research. University of  Bergen, Department of Therapeutic Oncology and Radiophysics, Bergen, Norway, 1986.
From Hippocratic Deontology to Byzantine Philanthropy. 4th World bio-Medical Conference of the Hellenic Diaspora, Nicosia Cyprus, 1996
Προσκεκλημένος ομιλητής στην εναρκτήρια συνεδρίαση του 8ου Πανελληνίου Συνεδρίου Ψυχοκοινωνικής Ογκολογίας, με θέμα «Γηριατρική Ογκολογία: μια νέα ειδικότητα γεννιέται», Αθήνα 2004
Educating medical doctors and public on screening and treatment of malignancies in the elderly, VI European Congress, International Association of Gerontology and Geriatrics, St Petersburg 2007
Bone metastases: Updates and Goals, ASTRO, Chicago 2009
PhD Theses Advisor
«Ακτινοθεραπεία οστικών μεταστάσεων σε ασθενείς με καρκίνο, σε συνδυασμό με χορήγηση διφοσφωνικών», Β. Βασιλείου, Πάτρα 2006.
«Εξάρτηση της ακτινικής πνευμονίτιδας από τον ακτινοβολούμενο όγκο: Εξομοίωση και κλινικά ευρήματα», Δ. Σπυροπούλου, Πάτρα 2002
«Μελέτη των ακτινοβιολογικών φαινομένων που παρατηρούνται μετά από έκθεση καρκινικών κυττάρων σε ιοντίζουσα ακτινοβολία χαμηλής δόσης. Η σημασία τους στην κλινική πράξη», Μ. Μαρτίνου, Πάτρα 2006